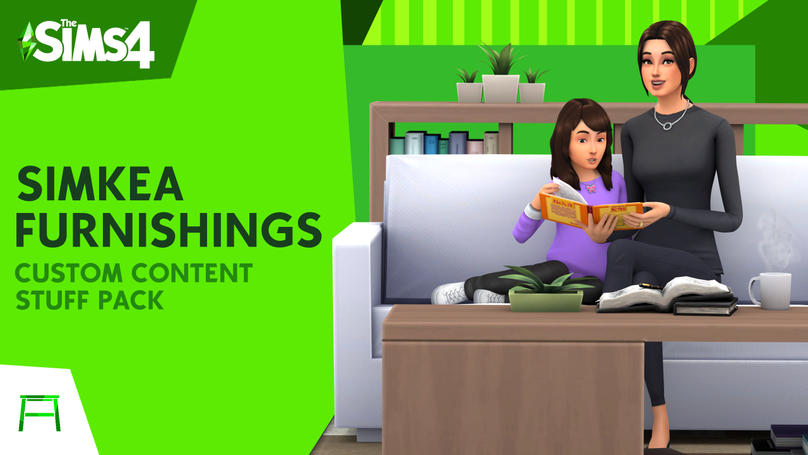 Like most people in Europe, my own interior mostly contains of furniture from a certain Swedish furniture store. It looks good, the collections are diverse and the price is fair. That's why I am so pumped about this custom content stuff pack by Illogical Sims. I have downloaded one of his cc stuff packs before (see the post about that here) and I absolutely love his creations. Its only natural that I got this one as soon as I heard it existed.
Review
Just as with the Modern Housewares custom content stuff pack, Illogical Sims included all the necessary items in this pack to furnish an entire house. That way, you've got new items for every room and you can create a theme inside your house that can be found in every room. There's kitchen cabinets, a bathroom sink, toilet, shower and bathtub, there's living room furniture like couches and coffee tables, book shelves and a TV stand, there's dining room furniture and there's also bed and dressers. The pack also comes with a few pieces of decor. I absolutely love the swatches of all the furniture, even though I am not sure the furniture can be bought in all of these colors in real life as well. Still, I love all the furniture that comes with the pack. Its very versatile and minimalist and it fits in almost every style of home.
On the other side, I am not entirely sure if the furniture pieces themselves (just as the swatches) actually can be found in the real furniture store they were inspired by. Yes, I definitely recognize the book shelves, the beds and the dressers, but as far as the dining room chairs go, for example, I am not sure those exist in reality. They look good regardless. But my intention to build and furnish my own irl apartment with this pack can not be fulfilled.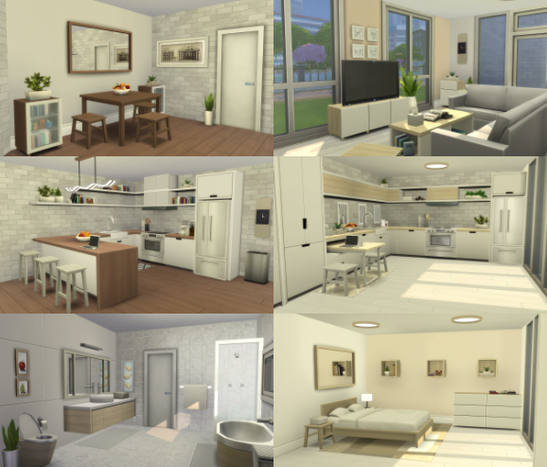 How I used the pack
What to build with a Swedish inspired furniture stuff pack? Exactly - a Swedish house!
It's a simple home with the typical Scandinavian red wood facade. The garden around it is not too big, but it's still got plenty of space for a swing set and a nice place to eat.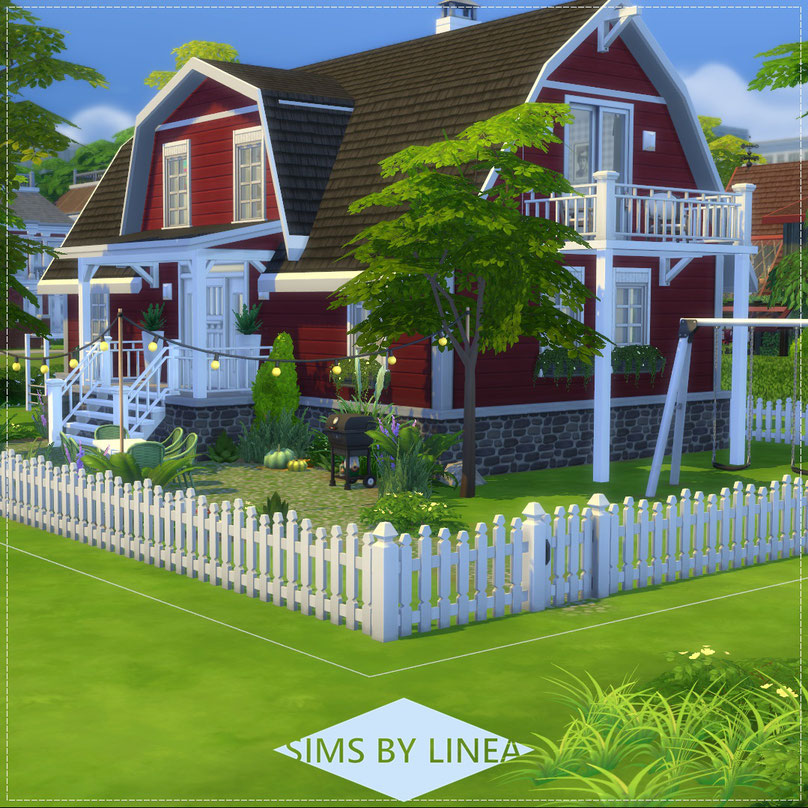 The interior is very light, with lots of white wood and wallpaper. I mostly used the swatches with white and light grey wood, which look so nice in every room. The kitchen is open to the entrance area and has an island with a waterfall edge, which I absolutely love. The appliances that come with the pack (fridge and stove) just are recolored Basegame ones, which are not special at all, so I used some other items. The bathroom furniture is gorgeous though, very smooth and modern. Next time using this stuff pack, I'll make sure to build a larger bathroom to be able to fit in the tub as well.
The dining and living room aren't equipped with too many items of this pack, since I didn't like those too much. The chairs were a bit too modern for this house, the table didn't fit into the room and the couches - I honestly couldn't figure those out. They are modular couches, so you could make them go around corners, but I don't know exactly how I should put them together to make it look good lol.
The upstairs of the home features two kids' rooms and the master bedroom. They are all held in white and beige colors, with wood and patterned wallpaper and carpet floors. There is room for one child, a toddler and one or two adults in this house.
You can download the build from the Origin gallery.
Contains custom content.
Origin ID: JKSWEDISHRETREAT
Origin name: simsbylinea
Check out the Instagram post about this build!